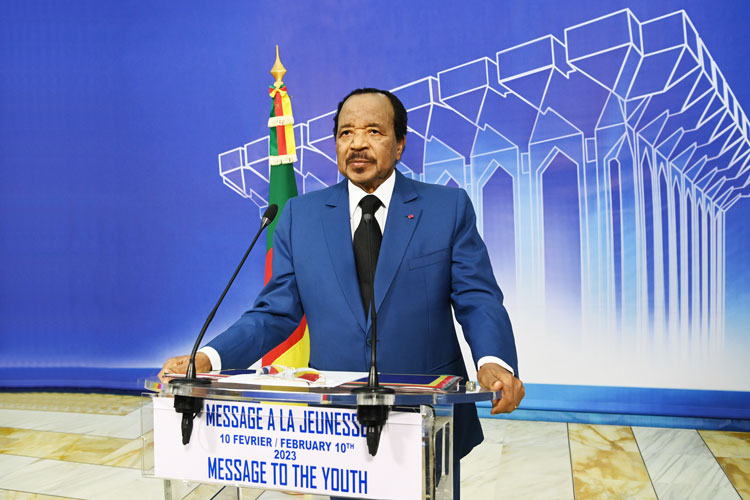 My Dear Young Compatriots,
As I speak to you, I fathom your legitimate concerns in a global context marked by a series of crises affecting virtually all sectors of activity and every State.
In this regard, I pointed out in my recent message to the Nation that such exogenous shocks as well as lingering internal threats are disrupting the pace of implementation of some of our public policies.
It is clear that such a particularly challenging context has relatively slowed down the desired pace of our development, a situation which we all deplore. However, I can assure you that I have never lost sight of the goals we set together, those of building a strong Nation, a prosperous economy and a country that is proud, free and united in its diversity.
It is a bounden duty, a duty to which I will continue to devote all my energy to ensure that each of you has the opportunity to develop your full potential and meet your aspirations.
In recent years, we made laudable efforts and mobilized substantial financial resources to address the many security, health, humanitarian, economic and financial challenges facing us.
We will resolutely continue on the same path. Such is my pledge.
My Dear Young Compatriots,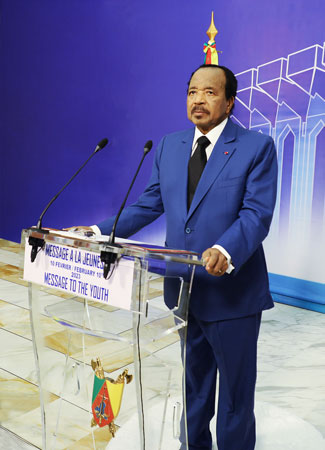 Faced with the multiple crises characterizing the current context and the ensuing challenges, it is normal that, just like youth worldwide, you may feel somewhat confused. It is normal that you may be tempted to yield to doubt and fear about the future.
You should not. Most of all, do not give up. Rather, utilize your intelligence, your wisdom, your resolve, your skills and talents to rise to the current and future challenges.
In this regard, as I told you before, education is inevitable. How useful would your talent be if you are not organized? How useful would your intelligence be if you get discouraged by the first difficulty?
You should therefore continue getting educated. You should also continue nurturing the love for discipline and hard work, while allowing yourself to be guided by the virtues of creativity and audacity.
For my part, I will continue making the requisite efforts to create, together with the Government and other social partners, an environment conducive to your education as well as your professional integration and development of your full potential.
To that end, I will, as in the past, prioritize the development of our educational system, with further emphasis on professionalization.
As you can notice, our school and university map has continued to expand, with the setting up of new primary and secondary schools, and universities.
Beside the traditional educational system, the Government has set up vocational training centres of excellence in several localities in our country and will continue to establish them nationwide.
An extensive programme to upgrade Rural Artisan and Home Economics Centres to vocational training centres has been launched, with the operationalization of the Nkongsamba Centre.
These efforts are all geared towards providing you with the best possible training to make you competitive and capable not only of seizing the job opportunities available locally and internationally, but also of becoming veritable self-employed entrepreneurs.
My Dear Young Compatriots,
In a bid to foster your integration into the job market, the State is taking action to promote the requisite entrepreneurial culture for youth empowerment. That is why I prescribed the Special Three-Year Youth Plan in 2016.
This plan has already enabled the financing of over 11 thousand youth projects and generated close to 35 thousand direct jobs, for an overall cost of approximately 20 billion CFA francs.
To boost this plan, I have instructed the Government to fast-track the creation of a Guarantee Fund for Young Entrepreneurs, with a special window for financing projects promoted by youth of the Cameroonian Diaspora.
In my recent message to the Nation, I announced the start or continuation of numerous projects in various sectors, notably infrastructure, energy and mining. These are employment niches that I am inviting you to take advantage of.
We will resolutely pursue our efforts to revitalize and diversify our economy, which will certainly create new job opportunities for our youth.
I must, however, recall that neither the State nor existing private sector enterprises alone can employ all the young people graduating from the traditional educational system each year.
That is why, once again, I am urging you to embrace self-employment by taking advantage of the opportunities available in areas such as agriculture, handicrafts, and digital economy.
This is definitely one of the most effective ways of reducing youth unemployment.
My Dear Young Compatriots,
Despite the challenging context, the Government is doing its utmost to create conditions conducive to better socio-professional integration of our youth.
We certainly need to step up our efforts to get a large number of young people into the workforce. We are committed to achieving that goal. It will be achieved.
Therefore, I urge you not to yield to despair, which drives some of you to the perilous path of illegal immigration, or the illusion of easy solutions that only lead to a dead end.
I also urge you to shun deviant behaviours, which are becoming rife in our society.
Regrettably, such is the case in schools where incivility, substance abuse, assault and many other excesses are increasingly becoming commonplace. Such behaviours should be prohibited as they do not serve your best interests.
You should also resist the temptation to seek refuge in the virtual world through misuse of the Internet and digital platforms, with the risk of losing touch with reality.
Aware of these threats, I have instructed the Government to draw up a charter to ensure the protection of children on the Internet in our country.
My Dear Young Compatriots,
I encourage you, however, to keep up with the times and use digital and technological advancements to improve your living conditions and those of your fellow citizens in the real world.
I urge you not to lose hope in your country and to have confidence in the future. Challenges will always be a part of human life, but they must be faced with courage and determination.
I will always stand by you in this salutary battle, that of meeting your aspirations for progress and modernity. We cannot afford to lose this battle. I know I can count on you. You can count on me.
I wish you all a happy youth day.
Yaounde, 10 February 2023