News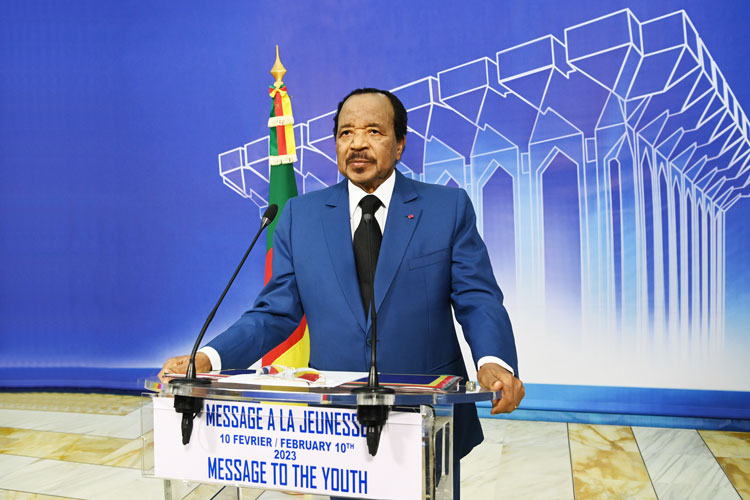 My Dear Young Compatriots,
As I speak to you, I fathom your legitimate concerns in a global context marked by a series of crises affecting virtually all sectors of activity and every State.
In this regard, I pointed out in my recent message to the Nation that such exogenous shocks as well as lingering internal threats are disrupting the pace of implementation of some of our public policies.
It is clear that such a particularly challenging context has relatively slowed down the desired pace of our development, a situation which we all deplore. However, I can assure you that I have never lost sight of the goals we set together, those of building a strong Nation, a prosperous economy and a country that is proud, free and united in its diversity.
It is a bounden duty, a duty to which I will continue to devote all my energy to ensure that each of you has the opportunity to develop your full potential and meet your aspirations.
In recent years, we made laudable efforts and mobilized substantial financial resources to address the many security, health, humanitarian, economic and financial challenges facing us.
We will resolutely continue on the same path. Such is my pledge.
My Dear Young Compatriots,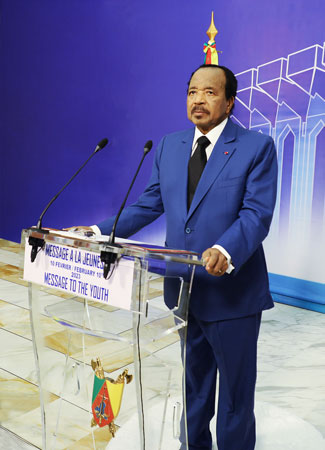 Faced with the multiple crises characterizing the current context and the ensuing challenges, it is normal that, just like youth worldwide, you may feel somewhat confused. It is normal that you may be tempted to yield to doubt and fear about the future.
You should not. Most of all, do not give up. Rather, utilize your intelligence, your wisdom, your resolve, your skills and talents to rise to the current and future challenges.
In this regard, as I told you before, education is inevitable. How useful would your talent be if you are not organized? How useful would your intelligence be if you get discouraged by the first difficulty?
You should therefore continue getting educated. You should also continue nurturing the love for discipline and hard work, while allowing yourself to be guided by the virtues of creativity and audacity.
For my part, I will continue making the requisite efforts to create, together with the Government and other social partners, an environment conducive to your education as well as your professional integration and development of your full potential.
To that end, I will, as in the past, prioritize the development of our educational system, with further emphasis on professionalization.
As you can notice, our school and university map has continued to expand, with the setting up of new primary and secondary schools, and universities.
Beside the traditional educational system, the Government has set up vocational training centres of excellence in several localities in our country and will continue to establish them nationwide.
An extensive programme to upgrade Rural Artisan and Home Economics Centres to vocational training centres has been launched, with the operationalization of the Nkongsamba Centre.
These efforts are all geared towards providing you with the best possible training to make you competitive and capable not only of seizing the job opportunities available locally and internationally, but also of becoming veritable self-employed entrepreneurs.
My Dear Young Compatriots,
In a bid to foster your integration into the job market, the State is taking action to promote the requisite entrepreneurial culture for youth empowerment. That is why I prescribed the Special Three-Year Youth Plan in 2016.
This plan has already enabled the financing of over 11 thousand youth projects and generated close to 35 thousand direct jobs, for an overall cost of approximately 20 billion CFA francs.
To boost this plan, I have instructed the Government to fast-track the creation of a Guarantee Fund for Young Entrepreneurs, with a special window for financing projects promoted by youth of the Cameroonian Diaspora.
In my recent message to the Nation, I announced the start or continuation of numerous projects in various sectors, notably infrastructure, energy and mining. These are employment niches that I am inviting you to take advantage of.
We will resolutely pursue our efforts to revitalize and diversify our economy, which will certainly create new job opportunities for our youth.
I must, however, recall that neither the State nor existing private sector enterprises alone can employ all the young people graduating from the traditional educational system each year.
That is why, once again, I am urging you to embrace self-employment by taking advantage of the opportunities available in areas such as agriculture, handicrafts, and digital economy.
This is definitely one of the most effective ways of reducing youth unemployment.
My Dear Young Compatriots,
Despite the challenging context, the Government is doing its utmost to create conditions conducive to better socio-professional integration of our youth.
We certainly need to step up our efforts to get a large number of young people into the workforce. We are committed to achieving that goal. It will be achieved.
Therefore, I urge you not to yield to despair, which drives some of you to the perilous path of illegal immigration, or the illusion of easy solutions that only lead to a dead end.
I also urge you to shun deviant behaviours, which are becoming rife in our society.
Regrettably, such is the case in schools where incivility, substance abuse, assault and many other excesses are increasingly becoming commonplace. Such behaviours should be prohibited as they do not serve your best interests.
You should also resist the temptation to seek refuge in the virtual world through misuse of the Internet and digital platforms, with the risk of losing touch with reality.
Aware of these threats, I have instructed the Government to draw up a charter to ensure the protection of children on the Internet in our country.
My Dear Young Compatriots,
I encourage you, however, to keep up with the times and use digital and technological advancements to improve your living conditions and those of your fellow citizens in the real world.
I urge you not to lose hope in your country and to have confidence in the future. Challenges will always be a part of human life, but they must be faced with courage and determination.
I will always stand by you in this salutary battle, that of meeting your aspirations for progress and modernity. We cannot afford to lose this battle. I know I can count on you. You can count on me.
I wish you all a happy youth day.
Yaounde, 10 February 2023
News
Fellow Cameroonians,
My Dear Compatriots,
As the year 2022 draws to a close, I believe it is appropriate to review the ground we have covered as a Nation, before looking to the New Year with confidence and determination.
You must have noted that in 2022, our country, like so many others, continued to face exogenous shocks.
Just as the global economy was beginning to recover from the distortions triggered by the Covid-19 pandemic, an armed conflict broke out between Russia and Ukraine in Eastern Europe.
The war between these two great countries has caused far-reaching disruptions in global market supply chains of consumer products, such as grain, crude oil and gas.
The ensuing global trade system dysfunctions also led to shortages in some manufactured goods and other staple products, as well as widespread price hikes.
I am prompted by the dire consequences of the war on the economies of countries, particularly developing countries, and the suffering inflicted on innocent civilian populations, to reaffirm the importance of peace and dialogue in conflict resolution.
My Dear Compatriots,
Despite this challenging context, our economy was able to adapt to the international environment, once again demonstrating resilience, with an approximately 3.8% uptick in the growth rate as against 3.6% in 2021.
Inflation remained reasonable, well below the global average. Access to inputs was secured, thus helping to maintain production activities and to mitigate food insecurity risks. All of this was made possible thanks to the stringent measures implemented by the Government.
Thus, besides increased tax and customs facilities granted under the post-COVID-19 recovery plan, substantial subsidies were accorded businesses in sensitive sectors, to sustain our economy's viability and competitiveness.
The fight against speculative behaviours and fraudulent exports of staple products was intensified. Encouraging strides were also made to ramp up local production, curb our dependence on imports and promote "Made in Cameroon" products.
The Government will continue to pay special attention to the coordinated implementation of the Import-Substitution Policy, and to leveraging opportunities afforded by the African Continental Free Trade Area.
Similarly, our social inclusion policy will be continued through better sharing of the fruits of growth. To this end, social safety net programmes targeting underprivileged social segments will be extended to a greater number of beneficiaries in all ten Regions.
In order to diversify State revenue sources, I authorized the implementation of three large-scale projects aimed at developing our mining potential, structuring our economy and creating jobs.
I would like to dwell on this for a moment.
Although our subsoil is endowed with mineral resources, the non-oil mining sector accounts for merely 1% of gross domestic product. Developing solid mineral mining will provide us with substitutes for our dwindling hydrocarbon stocks, and additional financial resources which can be used to finance our investments.
Accordingly, the year 2023 will be marked by the commencement of the exploitation of the Kribi-Lobe iron ore. The project includes the construction of an iron enrichment plant, an approximately 20-kilometre long pipeline, and a 60-megawatt power plant.
We will also start exploiting the Mbalam-Nabeba iron deposit. The expected benefits for our country are immense, including a 540-kilometre long railway line between Nabeba in Congo and the Kribi Port where a mineral terminal will be constructed.
The third project concerns the exploitation of the Bipindi–Grand Zambi iron ore, with the development of an iron and steel complex for the local processing of iron, the construction of a pipeline and several basic facilities for the benefit of the population.
A decisive step has already been taken in implementing these different projects, with the signing of the relevant mining agreements and granting of operating permits to successful bidders.
My Dear Compatriots,
During the year now ending, our country suffered major supply disruptions concerning energy resources and drinking water.
Ensuring a steady supply of petroleum products and cooking gas to the domestic market warranted increasing the volume of public subsidies, through substantial budgetary efforts. In 2022, for instance, the Treasury subsidized fuel and cooking gas to the tune of nearly 700 billion and 75 billion CFA francs respectively.
Considering the intensity of the exogenous shocks and their impact on our economy, I instructed the Government to consider all options to stabilize prices at their current level, and to maintain the purchasing power of consumers.
However, it is becoming increasingly clear that Cameroon, like many other countries in Africa and elsewhere, will not be able to indefinitely avert a petroleum products price adjustment if we must preserve our fiscal balances and successfully continue implementing our development policy.
Despite these constraints arising from the international economic situation, real progress was achieved with regard to the provision of electricity. In concrete terms, the East Region was connected to the South interconnected grid. The Nyabizan-Yaounde power transmission line was also commissioned, currently enabling the entire production of the Memve'ele hydropower dam to be injected into the electrical grid.
The situation in this vital sector will improve considerably in 2023, with the commissioning of Phase I of the Nachtigal Hydropower Dam and the commencement of work to connect the South and North interconnected grids.
Efforts to scale up energy supply quality and quantity will be intensified through the construction of new energy infrastructure and solar energy development, particularly in the northern part of our country.
Access to safe drinking water for our population is one of my main concerns. The completion of the Project to Supply Drinking Water to the City of Yaounde and its environs from River Sanaga will provide a lasting solution to the city's water supply shortages.
I have also instructed the Government to urgently finalize procedures for the launching, in 2023, of the mega-project to supply drinking water to the City of Douala and its environs.
Besides our large cities, production facilities were constructed in some towns, namely Bamenda, Bertoua, Ngaoundere and Ebolowa. These facilities will be constructed in other urban and rural localities in the coming year.
My Dear Compatriots,
In spite of the unfavourable situation, the Government is sustaining its efforts to assume its prime responsibility that is to improve the living conditions of the citizens. Ongoing structural reforms under the economic and financial programme concluded with the International Monetary Fund and other development partners must be continued.
I am pleased to note that no sector of activity was neglected despite the particularly challenging economic context of 2022. Without being exhaustive, let us briefly look at a few other sectors, besides those already mentioned.
In the public works sector, 860 kilometres of road and 460 linear metres of engineering structures were constructed or rehabilitated. These include:
- The commissioning of the bridge over the Cross River between Cameroon and Nigeria, as well as the completion of the asphalting of the road section between Sangmelima and Brazzaville, thus opening up our country to the markets of neighbouring States;
- The asphalting of the Lena-Tibati-Ngatt road section on National Highway No. 15, with the advantage of increasing land links between the country's northern and southern regions;
- The construction of the Kribi-Lolabé motorway and the Grand Zambi-Kribi road, which will boost the competitiveness of the Kribi Port Authority;
- The construction of the Bertoua-Batouri road, which will be extended to Yokadouma and beyond.
The Construction of many road facilities has also helped to open up agricultural production basins. These efforts will be continued in 2023 with the construction of about 700 kilometres of road, including the asphalting of the Ebolowa-Akom II-Kribi stretch.
I have instructed the Government to do all it can to ensure the resumption of construction work on the Mora-Dabanga-Kousseri, Babadjou-Bamenda and Kumba-Ekondo Titi road sections.
Special attention will be paid to rehabilitating urban road networks and improving traffic flow between our major towns. The launching of construction work on the urban section of the Yaounde-Nsimalen motorway and the acceleration of work on the Douala-Yaounde motorway will feature among the Government's priorities.
The rehabilitation and modernization of the Tiko, Bertoua and Kribi airports will also be prioritized to ensure that all regions of our country are served by air transport.
Fellow Cameroonians,
The year 2022 was also marked by floods which once again afflicted the inhabitants of the Far-North Region, particularly those of Logone et Chari and Mayo-Danay Divisions. This recurrent phenomenon, which is due to climate disruption, calls for strong measures to prevent the ensuing disasters.
Besides providing humanitarian assistance to victims, I instructed the Government to implement a plan for the reconstruction of the Far-North Region. This plan includes the construction of a number of water-impounding and socio-economic facilities.
Regarding health care delivery, it is undeniable that it improved significantly in 2022.
The Regional Hospital Centre and the Garoua General Hospital were inaugurated and commissioned. Our country is now capable of providing quality health care in highly specialized fields such as cardiac surgery and renal transplantation thanks to the upgrading of the infrastructure and technical equipment of many health facilities.
I have enjoined the Government to sustain ongoing efforts in this sector by implementing an extensive plan to upgrade technical equipment and to build the capacity of hospital staff nationwide.
My Dear Compatriots,
I now wish to dwell on the security situation. Overall, the situation has been brought under control countrywide despite the resurgence of urban crime and lingering sporadic attacks by certain terrorist groups in some regions.
Thanks to the Army-Nation link, collaboration between our defence forces and the population has contributed to reducing significantly the terrorist threat in the Far-North, North-West and South-West Regions. With the return to calm, remarkable progress has been achieved in implementing the Plan for the Reconstruction and Development of the said Regions.
Once more, I want to commend our defence and security forces for sparing no effort in protecting lives and property, particularly in areas prone to terrorism.
I also thank our partners for their multifaceted support, and particularly the United States of America for its decisive action in prosecuting those who help to finance terrorist activities in Cameroon from abroad. I urge other friendly countries to follow suit so that the resumption of development activities can be accelerated in the said Regions.
On the political front, decentralization is being implemented methodically. Powers are gradually being devolved from the State to regional and local authorities, while ensuring that the structural balances that constitute the backbone of our Nation's social pact are not undermined.
Personally, I am convinced that Regions, urban councils and councils can and must play a key role in reviving our economy, resolving the thorny issue of youth unemployment and revitalizing local democracy.
The senatorial elections to be held in 2023 will afford an opportunity to consolidate our decentralization option through a newly elected Upper House of our Parliament that represents regional and local authorities.
Fellow Cameroonians,
My Dear Compatriots,
Before I conclude, I would like to draw your attention to two scourges that are becoming rife in our society, namely corruption and incivility.
Last year, in similar circumstances, I talked about the need to strengthen governance in the management of public affairs and to control government spending. Rest assured that this concern is constant and unwavering. I also want to reiterate that those who are illicitly amassing wealth by plundering the State, at whatever level, will be brought to book.
I urge all Cameroonians, regardless of their social standing, to resolutely embark on this crusade that I have led over the years. Everyone, at his or her level, should act with integrity and safeguard our commonweal.
It is only through working collectively, decisively and resolutely that we will be able to overcome the corruption persisting in our society.
You have certainly noticed, like me, growing incivility, violence and disregard for basic social norms or established order in our towns and in the countryside. Such behaviour cannot be tolerated in a State of law. Those who take delight in disrupting social order, whether young or old, will answer for such conduct before the competent courts.
I am therefore appealing to all, especially parents and educators, to take up the responsibility of fully restoring basic moral values and respect for public order.
Once more, I wish to make an appeal to those using social media for criminal and malicious purposes. Through their actions, particularly disinformation, defamation, and spreading hate speech, they cause distress to numerous families and often ruin lives. Clearly, they jeopardize social cohesion.
Fellow Cameroonians,
My Dear Compatriots,
As you are aware, it is by observing personal discipline in our daily behaviours that we will be able to build the modern Cameroon to which we all aspire.
A prosperous Cameroon united in its diversity, a Cameroon where every actor has his or her own place. In this regard, I wish to acknowledge the crucial role played by the private sector in the implementation of our development policy.
For my part, I will continue to do everything possible to ensure our country's progress. I know I can count on each and every one of you to achieve that.
Happy and Prosperous New Year 2023
Long live the Republic!
Long live Cameroon!
News
WE ARE PUBLISHING HERE BELOW IN ITS ENTIRETY THE SPECIAL STATEMENT OF 05/0/2021, BY THE PRIME MINISTER, HEAD OF GOVERNMENT, ON THE GOVERNMENT'S RESPONSE STRATEGY AGAINST THE CORONA VIRUS PANDEMIC (COVID-19).
Ladies and Gentlemen,
I would like to start by saying that this statement is in compliance with the instructions of the President of the Republic, His Excellency Paul BIYA. As you are probably aware, within the framework of the implementation of Government's response strategy, on 17 March 2020, the Head of State issued a series of restrictive measures aimed at limiting the spread of COVID-19 in our country. Although these restrictions were stringent, they were beneficial. The actions implemented by Government helped to curb the spread of the pandemic in our country and to save lives.
To ease patient care, isolation units for COVID-19 infected persons and specialised treatment centres were opened. The control of the pandemic led the President of the Republic to decide on a gradual easing of certain restrictive measures. As a result, on 30 April 2020, bars, restaurants and leisure facilities were allowed to remain open after 6 p.m. Pupils and students in examination classes, in primary and secondary education, as well as university students, learners in vocational centres and professional schools were able to resume in-person classes from 1 June 2020.
This decision enabled them to complete the 2019-2020 school and academic year, and to continue their training for the current 2020-2021 year. Moreover, considering the effects of this pandemic on the national economic and social fabric, the Head of State decided to grant facilities to companies in difficulty and to the most modest households. The application of these measures helped to lay the groundwork for our economic recovery and to regain a certain social balance in the face of this harmful disease.
Ladies and Gentlemen, Despite the efforts made to curb the spread of COVID-19 in our country, there has been a resurgence of the pandemic in many of our cities in recent weeks. Updated statistics show that 34 thousand 887 patients have already been cured of this disease since it first appeared in our country. However, in the space of one week, more than three thousand (3,000) new cases were recorded, bringing the overall number of people testing positive for COVID-19 to 38 thousand 988. Over the same period, 37 patients died as a result of this disease, bringing the total number of deaths to 588.
There is every reason to believe that the deterioration in the epidemiological situation that we are observing today is largely due to the laxity in the application of safety measures and to the failure to comply with the restrictive measures taken on 17 March 2020, some of which are still in force.
Indeed, a very large majority of our compatriots gather carelessly in public or private spaces, disregarding the rules of social distancing, and without taking into account the limit of 50 people for any gathering.
Many no longer even wear masks, which is compulsory in all public places.
Some even continue to think that COVID-19 is a pure invention, or that it exists only in other countries.
Such behaviour is irresponsible and favours the spread of the virus, especially at a time when many variants have been discovered in certain countries.
This disease is real. It continues to wreak havoc among our loved ones, and strikes brutally at people with co-morbidity.
In this context, Government has an obligation to protect each and every one of its citizens, despite the reluctance or denial of the reality of this disease by some of our compatriots.
I therefore seize this opportunity to remind everyone that the measures taken on 17 March 2020, which were not expressly lifted by the President of the Republic, are, and remain in force.
They include:
- the prohibition of gatherings of more than fifty (50) people throughout the national territory;
- working remotely and using electronic means of communication as much as possible, especially for the organisation of meetings, where social distancing cannot be observed;
- the suspension of missions abroad for members of Government and public and para-public sector agents, except in the case of express derogation;
- the systematic wearing of masks in all public places and respect for social distancing. Considering the significant increase in the number of cases of contamination and in order to ensure the effective application of the measures already enacted:  Administrative authorities have just been instructed by the Minister of Territorial Administration to ensure, within the framework of their administrative police missions, that hand washing or the use of hand sanitizers is reinstated at the entrance of all establishments open to the public, including places of worship.  The Ministers in charge of Education and the Minister of Trade would also ensure the application of this measure, respectively in schools and universities, as well as in shopping centres.  Safety measures must be complied with in all circumstances and in all places, including in open markets and meeting places, such as bus stations, taxi and motorbike pick-up points, as well as in public transport.
I would like to stress that access to any establishment open to the public will henceforth be subject to the wearing of a mask.
Also, screening at air, sea and land borders have been stepped up to reduce the risk of importing variants of COVID-19.
Large gatherings and risky behaviour are prohibited.
I particularly insist on the imperative need to rigorously respect the limit of fifty (50) persons as well as safety measures, during meetings, ceremonies, events and other official or private celebrations, especially when these meetings take place in closed places, in order to avoid the emergence of clusters.
We must not lose sight of the fact that each individual protects himself and others.
With a view to strengthening our prevention mechanism, the Government, on the instructions of the Head of State, has taken steps with partner organisations to acquire vaccines against COVID-19.
More than one million doses of the vaccine will be available in the very near future.
Once these vaccines become available, a vaccination plan shall be set up, and vaccination shall be voluntary.
I would like to note that although vaccination is voluntary and not compulsory, the Government encourages all Cameroonians to be vaccinated when the time comes, in order to acquire the immunity that will enable our community to protect itself against COVID-19 for a return to normalcy.
While waiting for the outcome of on-going steps, personal disciplines, as well as the strengthening of individual and collective prevention measures, are the most effective means of halting the spread of this disease in our country and preserving the lives of our fellow citizens.
I therefore invite all of us to mobilise in solidarity, especially community relays such as religious and traditional authorities, opinion leaders, political leaders, associations and trade unions:
- let us all observe the directives of the Head of State concerning the fight against COVID-19;
- let us work together to fight this pandemic that disrupts our social balance and the realisation of our development projects;
- let us rise and bar the way to the spread of this disease:
by respecting basic hygiene rules;
by systematically wearing our masks in all public places;
by respecting social distancing as much as possible;
and avoiding popular gatherings.
This is a collective requirement, but also, and above all, a civic duty which transcends our personal, religious or philosophical beliefs.
Thank you.-
News
A Communiqué from the Embassy in Belgium announces that issuance of entry visas to Cameroon resumed on 22/06/2020.
Cameroonian citizens settled or residing abroad shall be entered on the registers of electors opened at diplomatic representations and consular posts in their countries of residence or attachment.
They must enjoy their civic and political rights and fulfill all the required legal conditions to be an elector.